Soup is one of my favourite things to eat for lunch, and this is no exception - warming, packed full of healthy veggies with a fantastic kick of spices. It really is the perfect autumn lunch, and Harry loved it too. The other wonderful thing about this soup is just how thrifty it is. If you're going to have some leftover pumpkin knocking around this weekend or next week, it'd be ideal in here.
I'm having a real on-plan week with Slimming World - I have a very stubborn 2.5lb that I'd like to shift so this is a fantastic syn free lunch with lots of lovely speedy veggies in too.
For other baby led weaners, soup isn't a natural go-to, certainly for me it feels a lot like a puree, but Harry loves it - spoons are a bit wayward, so it worked beautifully with some slices of our current favourite dairy and soya free bread (Waitrose Essentials)
If you're not dairy free this would be a perfect lunch with a cheese and ham toastie. Harry had his bowl with bread for dunking and I had mine as it came. This would be amazing with some warm
soda bread
.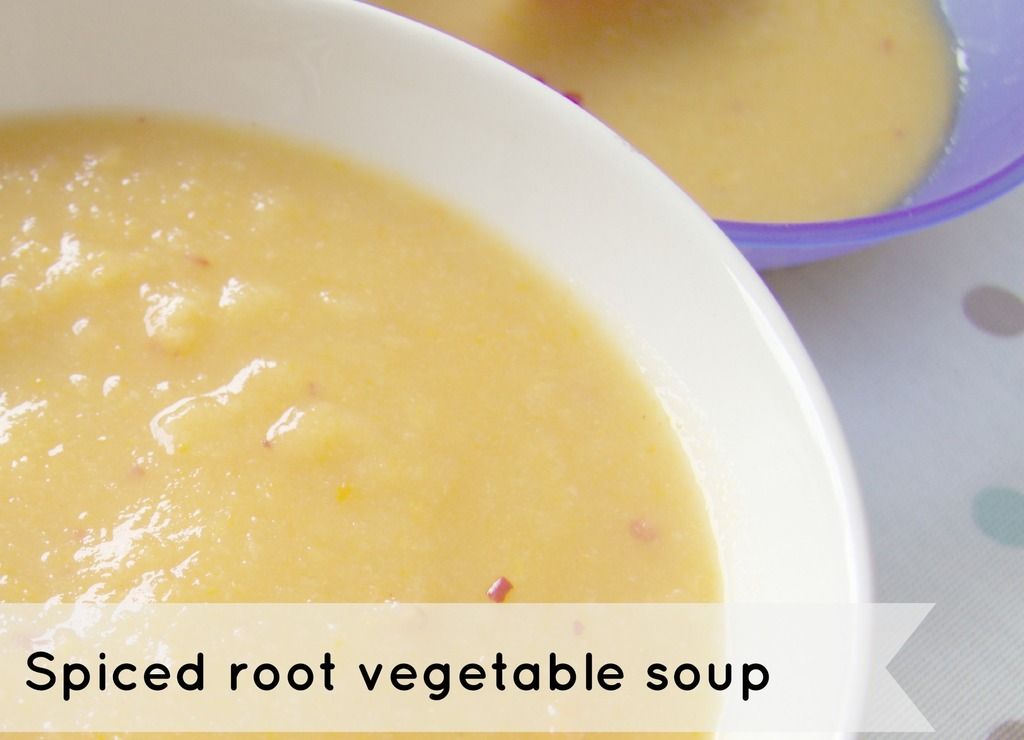 Spiced Root Vegetable Soup
Dairy free, egg free, soya free, vegan
Ingredients
2 cloves

Garlic

2

Parsnips

3-4 medium

Carrots

½

Swede

2

Sweet potatoes

1l

Vegetable Stock

1l

Water

1tblsp

Ground Cumin

1

Red Chilli

½ tsp

Ground Coriander

Pepper
Instructions
1. Pop the peeled and rougly chopped veggies in a large pan and cover with the stock and water
2. Add the garlic, spices, salt(if this isn't going to be eaten by babies) and pepper
3. Bring to the boil and turn the heat down before simmering until the veggies are lovely and soft
4. Puree with a stick blender until as smooth or lumpy as you like
Details
Prep time:
Cook time:
Total time:
Yield:

6 bowls (grown up portions)
This keeps beautifully in the fridge so I make a batch at the start of the week and then we have it until it runs out. I say we - I'm a lot more keen on leftovers than Harry who hasn't quite come around to eating the same thing for a couple of days.
If you like this bowl of comforting vegetable goodness, why not try these other super soups
I'm entering this into this month's No Croutons required challenge from Tinned Tomatoes
I'm also adding this to
A Mummy too's Recipe of the week