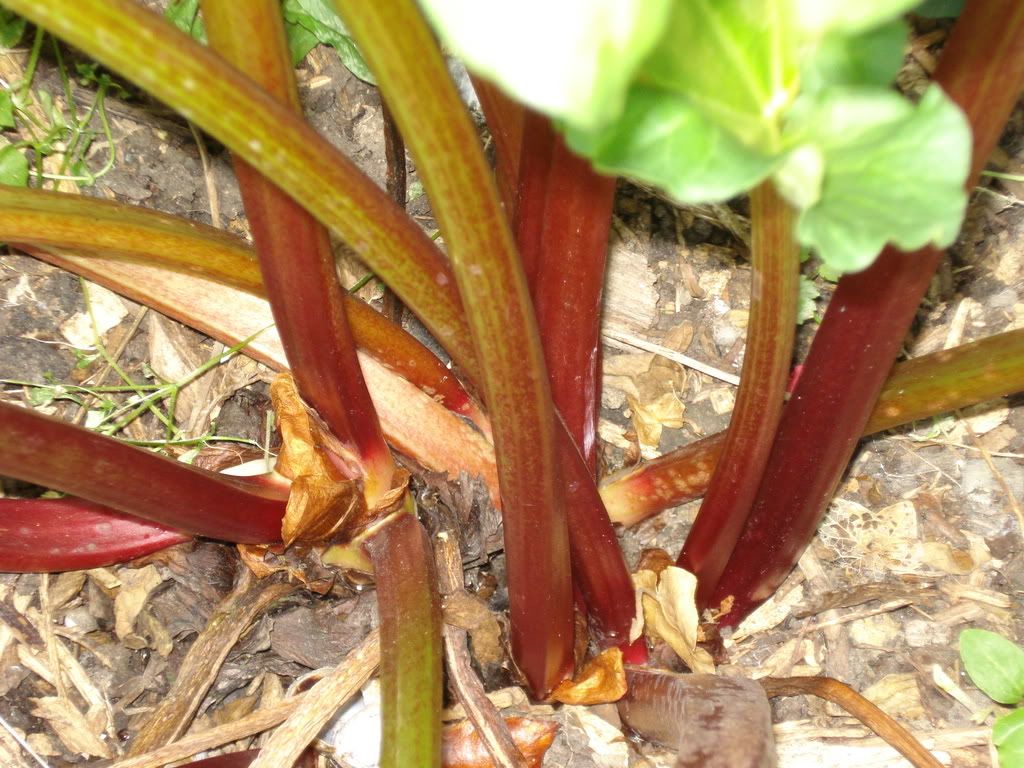 I believed my drama teacher (snaps to Mr Davis) for years when he taught us to mouth "rhubarb rhubarb" to make it look as though we were talking when not the focus of a scene in the school play. And this was someone who took our school plays extremely seriously; I was in Brecht's "Caucasian Chalk Circle" at 13! Never were we subjected to *shudders* "Children's theatre" and his tolerance for my love of musicals was less convincing (although he came to see me in every single one I did) than my turn as about 7 characters in a 6 hander adaptation of "Under Milk Wood." Seven layers of under-dressing, and the payoff? I got to meet Max Bygraves! Oh yes... I had made it! Still, Mr Davis clearly gave me a good grounding in appropriate onstage behaviour, how to 'become' your character, and of course, projection which I make use of daily in my work as a Learning & Development officer. Yup. Score there on the career front Penelope!

But back to the question in hand. Rhubarb. I finally moved house a fortnight ago and am loving the new flat. I'm back in North London (my spiritual home) back Guiding on a regular basis, and am even nearly unpacked. My new flatmate, showed me around the garden (yes, we have a garden! Squee!) and pointed out a rhubarb plant that 'needed' using up before it spoiled. Well in my role as new flatmate, I clearly felt it my duty, to be thrifty, and to demonstrate my skills in the kitchen. So, out of boxes came the Nigella cookware - and I'm sorry but if you don't swoon at the duck egg blue china then you must be either unwell or insane. And that's not an opinion. It's fact. Well, in my world anyway - so it was time for crumble.
As with cookware, I fall the same way with baking recipes, so went back to basics with Nigella and
How to Eat
. Nigella loves rhubarb (and although I have yet to go as far as her rhubarb vodka) and her recipes, whilst simple really do work with both the flavour and the texture of the fruit. In Domestic Goddess and Feast, she alters her crumble recipe, but I wanted plain and simple so that I could vary it slightly with flavours that I know marry well.
I don't know about you, but crumble was the first thing I learnt to make in Home Economics (same school as the heavenly, influential Mr Davis; teacher from the other end of the spectrum entirely). I remember vividly the excitement of taking in our ingredients (tinned apple? No, I have no idea why either, flour, margarine, sugar) and bringing home our crumbles. Mum was duly impressed, and I was thrilled. I was already able to make flapjacks, and New Zealand biscuits, as well as help Mum with regular dinners, but in my eyes, this was 'proper' cooking. Not just watching and copying, but being TAUGHT technique. It was overrated. Rubbing in is just that, although I find it oddly soothing these days.
Like so much when baking; rubbing in takes me out of that world of office politics, of activity planning, of my disastrous love life and important decisions about whether or not to bid on an Orla Kiely handbag on Ebay (decision yes, some git outbid me at the last second. I'm still bitter). This week has been a struggle for me healthwise, but I managed to sit at the table and rub the butter into the flour. Somewhere along the line in the moves I have lost my vanilla sugar so soft brown sugar was added to this, along with about half a cup of oats. I don't always add oats to crumble, but it adds a lovely texture to the topping. I spread this over the chopped up rhubarb that I had tossed in some sugar and fresh grated ginger. I know I should probably use the stem ginger in syrup but the thought of it makes me feel nauseous. I have no reason for this apart from the gloopiness (it's a word).
Speaking of the rhubarb, I actually picked it! This was exciting. The recipe had called for 750g of trimmed rhubarb and I have to confess that I had no idea how much I would need to pick. No idea at all; some days that Felicity Kendall fantasy just steps further away I just know that she would have known instinctively. *Sigh* Still, it only took three trips to the bottom of the garden to get about the right amount. I chopped the leaves off - I'm still convinced that they're poisonous despite people telling me the opposite. Anyway once I had gathered enough, I chopped the stems up into about 5cm pieces (I say about, because truthfully I have no idea without holding a ruler in my hand how long 5cm is. And I may be retentive, but even I don't chop rhubarb whilst holding a ruler!)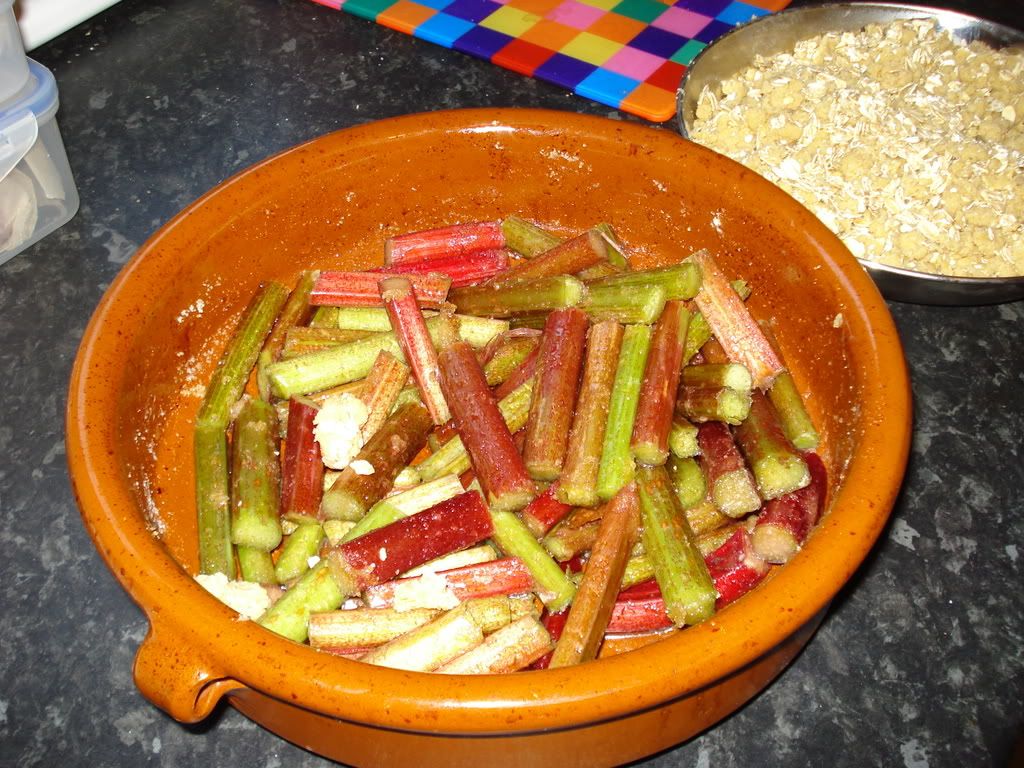 So this is a very long winded way of telling you that the crumble was bloody gorgeous. Of course, only I could make crumble on the hottest week of the year without the foresight to buy icecream to go with, but natural yoghurt made a refreshingly tart addition to the tasty fruit and crumble combo. My proudest moment, at a Guiding meeting the next day, receiving a text from the new flatmate "That crumble is bloody gorgeous" Ladies and Gentlemen, the pantry has reopened, and I am back!