I actually couldn't alliterate or link this post to a musical. I'm sorry to let you down, I feel ashamed of myself, and will have stern words with myself some point soon I promise.
But remember the marrow I mentioned at the end of the last post? Well, I procrastinated over what to do with it for a fortnight; all the while having the recipe from BBC food for
Chorizo, pepper and couscous stuffed marrow
at the back of my mind. It was doing battle with my vivid childhood memories of marrow stuffed with mince that had been cooked off with onions and vegetables (I have vague memories of peas being in there but as to what else... I'm at a loss). In my memory the marrow was bitter and at the same time watery, and the filling not as meaty as a shepherd's pie base, nor tomatoey like bolognaise sauce. The Bank Holiday weekend (and my refusal to throw good food away) forced me into a decision and I plumped for the safety net of a recipe and so BBC food won out.
The recipe itself was simple enough, and I halved quantities in order to make both the stuffed marrow and the roasted wedges (which I hadn't initially planned on making at all), as at the last minute I wimped out of eating marrow in any form for 4 days straight. Fortunately my flatmate bravely stepped up to the mark and we shared the dish. The couscous filling was full of flavour, mainly derived from the strong chorizo and the herbs (I made double of what I needed so that I could eat teh leftovers for lunch this week) and as a couscous dish I liked it. I simply filled the cavity of half of the marrow with this, and the chopped the other half of the marrow into wedges which I tossed in a mixture of rosemary, olive oil, salt, pepper and garlic. Both dishes went into the oven for about 25 minutes.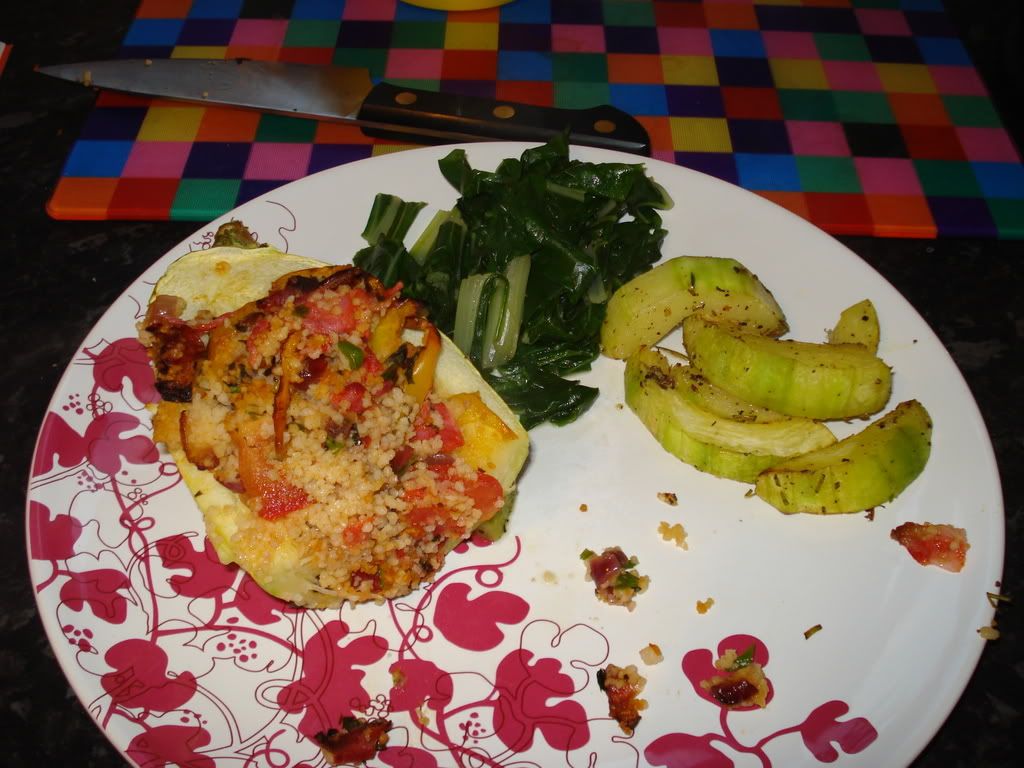 The end result whilst not overwhelming was very tasty. I really enjoyed the marrow wedges, and would definitely cook these again in exactly the same way - it would make a slightly different and tasty side dish with leftover roast chicken. The stuffed marrow, needed cheese we decided, and were I to make it again I would grate cheese over the top and put it back under the grill to melt. However, the filling was tasty and the marrow itself, wasn't at all bitter, but like a very mild courgette. Should another marrow turn up in my veg box, I think I'm going to embrace my roots and stuff it with some kind of mince mixture; just to see. I think the meatiness of the mince would work well with the flavour of the marrow.
I finally succumbed yesterday, and tried a recipe from Nigella's
Feast
. Her famous Chocolate Guinness cake. Well it looks and tastes absolutely amazing. After a relatively light evening meal, we certainly had room for some of this, and the rich chocolate cake is cut through fabulously with the tart cream cheese icing. This and a cup of mint tea sent me happily to bed last night. I plan to make it again (un-iced this time) as a treat for the adults on Pack Holiday next weekend.
I've still been off work with my back, and aside from catching up on Desperate Housewives (and I had missed a LOT, but I'm pleased to say that I'm nearly up to date), I've also watched a lot of old episodes of Friends one of which inspired a batch of Tollhouse cookies, directly from my
Great Big Cookie Book
I don't know if they're actually supposed to replicate the packet mix that the episode in question concentrates on doing so (sadly Youtube let me down on this occaision and no clips were forthcoming) but as friends, flatmate and family can attest they were very tasty and certainly didn't last long!
Well, I'm going to try and head back to work for at least part of
the day tomorrow so wish me luck. I'm fortifying myself with a bowl of penne and the best tomato pasta sauce in the world ever (TM) with some mozzarella stirred in right at the end. True comfort food. One day I promise I'll take a picture of it... but the recipe is courtesy of one of the women over at handbag.com and it never fails me.