As the title would suggest, this has been a quiet week on both the cookery and blog fronts.
I did manage to cook chicken enchiladas, using my t&t recipe which is loosely based on a very old recipe from
Sainsburys
... when I say very old, I'm easily talking 6 years or so!
I start by making a salsa with onions,
tomatoes
, garlic,
chilli
and green pepper. Pop that on one side and cook some chicken, spring onions, mushrooms, yellow and red pepper, garlic,
chilli
and cumin in a hot pan until the chicken is cooked through. I add a couple of large handfuls of grated cheese to this and then fill 8 tortillas with the mixture, roll them up, put them in a baking tray and top with the salsa. I then sprinkle more cheese on top and bake in a medium oven for about 20 minutes. They're a great home-made ready meal I find, as I cook and assemble them on one night, and then do the final step for however many I want to eat (usually 2, I'm not that much of a gannet!) as I go through the week.
I've also made pesto this week, to my basic recipe from Jamie O. It's currently in the fridge as I haven't got around to actually eating it yet. But I will.
The big success of the week, was the chocolate courgette cake. Recipe
here
It was ridiculously easy to make, and everyone adored it; even when they heard that it had sneaky vegetables hidden within!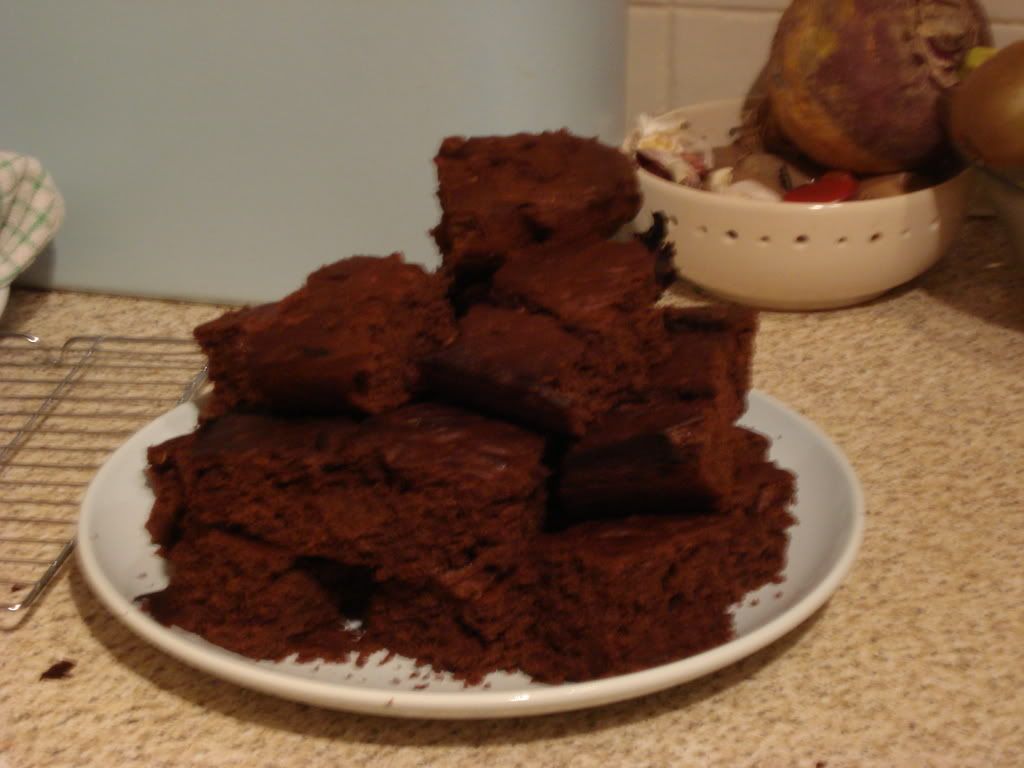 Oh but quantities? This makes 18 generous squares of cake... I have no idea how if made to the recipe it serves 6... but my office didn't mind at all!